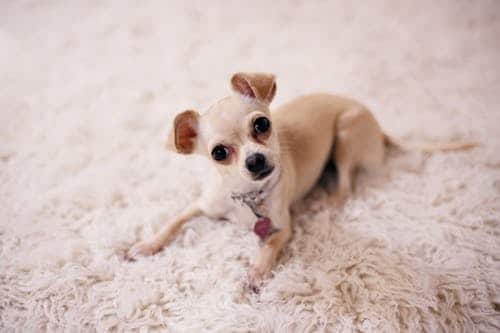 Having a dog is amazing, but also quite complicated. You need to get organized and provide your dogs and cats all sorts of amenities and certain living conditions, but the main problem all animal lovers around the world are facing is protecting their home against their dogs. One of the ways to protect your floor is covering it with a carpet or a rug, so here are a few ideas on how to choose one that's both visually appealing and dog-friendly.
The Material
Whether you have a dog, a cat, a bunny, a guinea pig or another animal, the chances are it's going to scratch your floor and damage it, which is why you need to pick a carpet that's made from some sort of protective material. That's why owners usually opt for nylon and polyester, though most of them use wool because it's the thickest, most durable and most pet-friendly option out there.
Wool is also comfortable and healthy, which means your dogs can spend as much time there as they want, doing literally whatever they want to, and you won't have a problem cleaning your carpet afterward. Of course, you need to control your dogs' behavior and teach them how to remain clean, but that's a process that could take some time, and having a great carpet is going to help you get through those times more easily.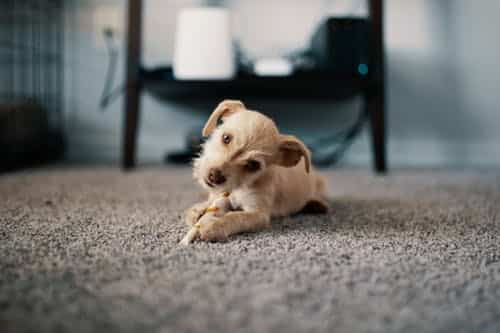 The Colors
Before your pets learn what they can and can't do, they're probably going to do lots of different things they shouldn't, and your carpet is going to suffer the most. That's why not just any color will do, and dark colors will prove to be better in the long run. These kinds of carpets and rugs won't show as many stains, hair, and dirt, and are going to make you feel much better at your own home than the alternatives.
However, dark carpets aren't the best option for light-colored dogs and cats because you'll be able to see their hair wherever you look. Therefore, take the color of your dog into consideration when choosing your carpet and try to find a model that will help you keep your home clean and tidy.
The Pattern
When choosing a carpet or a rug for their living rooms and bedrooms, different people explore different patterns and designs that might look nice and make their living space more beautiful than before. That might not be the best idea in the world if you have a pet, though, because they usually don't respond to patterns in the same way we do. So, be careful and opt for something that will work for you and your dog at the same time.
The issue with patterns is simple – they may confuse your pet, especially if they're too intricate. But, they'll also help you hide their hair, which is great for the overall appearance of your home. So, be sure to look into visually attractive antique rugs that come with a complex pattern, because these won't just make your home look more welcoming and appealing than ever, but also keep your pet's hair out of your guests' sight.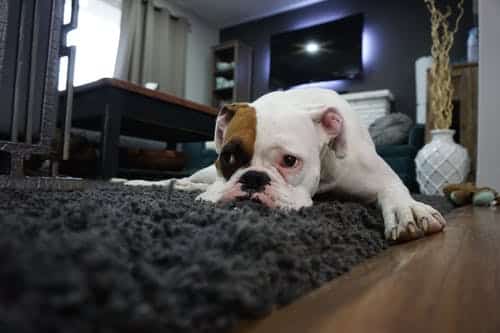 The Size
In the end, just because you've found a rug that looks nice and cool doesn't mean you've solved all your problems. You still need to think about the size, and decide whether you want a wall-to-wall carpet or go with a few smaller rugs scattered here and there around your home.
Both options have their pros and cons, and it all depends on your flooring. If you have hardwood or vinyl floors, your pets are probably going to leave scratches and marks all over it, which is why covering them with a massive carpet is better. In case your home is equipped with some more resilient flooring options – stone, concrete or tile – this isn't going to be necessary, so only a couple of rugs are going to be enough.
Choosing a carpet or a rug you and your pets are going to love is hard, but that's just something you have to do in order to give everyone a cozier and more enjoyable space, so follow this guide and find a choice you're going to enjoy in the future as well.