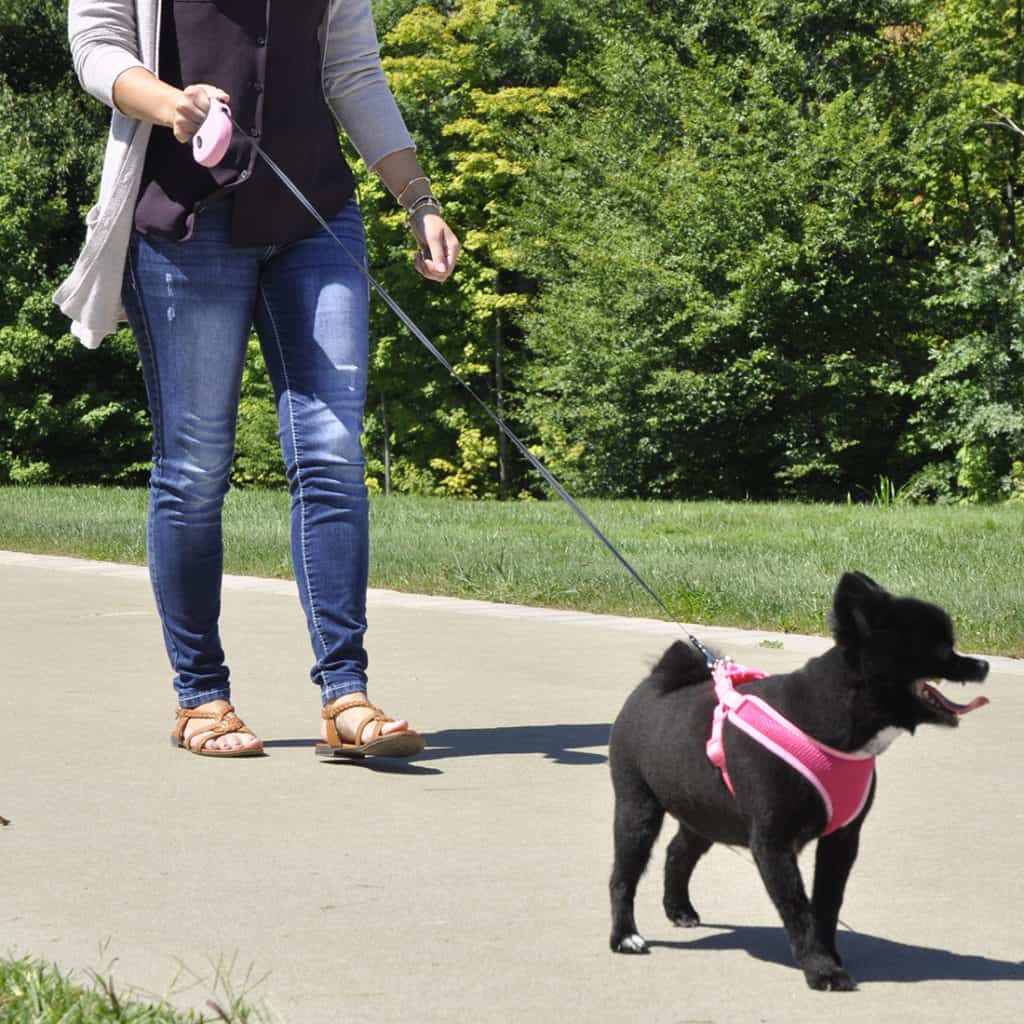 Dogs love the outdoors. This happiness makes walking the dog just as enjoyable for any dog parent. Although your dog would love nothing more than be rid of the leash, it is a necessity as this could prevent your pet from getting into areas that could be dangerous for them. Your dog would constantly drag you around but safety comes first.
Fortunately, with a retractable leash, your dog has a larger area to move or play around. You can sit down on a bench in the park and just let your dog stroll as far as the leash permits. Your dog won't drag you around you as much as when you're using a normal leash. But, not all retractable leashes are made equal. To ensure you and your dog's safety, you must know what to look for in a leash and how to use a retractable leash.
Quick Comparison Of The Best Retractable Dog Leash For Small Dogs
Choosing the Right Leash
There are three things to be considered when choosing a retractable leash: the handle, the material of the leash, and the width of the leash. Of course, you still have to consider the common factors when choosing other kinds leash, like the available length and the attachment or hook for the collar. But, in this article, only the considerations for a retractable leash would be discussed.
The Handle
You should be able to comfortably hold the handle with one hand and, at the same time, operate the retraction mechanism effectively. It should be made of material that would prevent it slipping from your hand when your dog suddenly moves.
Leash Material
Because of the mechanism of a retractable leash, it cannot use braided nylon or leather as the material for its leash. It must use a material that can easily be rolled back inside the housing by the retraction mechanism of the leash. This is why these types of leashes use either a cord or flat nylon so that it can easily be extended or retracted from inside the housing.
As you may have guessed, a cord could be problematic for your dog as this could cause rope burns for you or your dog. Even though you can retract the leash, there would eventually be a time when it breaks and you have to grab onto the leash to take control of your dog. As for your dog, a cord has sharper edge than flat nylon which could be abrasive when your dog finds its neck, limb, or body wrapped with the cord.
Other than this, a cord can easily be chewed out by the smallest dogs. This could be dangerous as it might break or snap at the wrong time and put your loose dog in a dangerous situation.
The Width of the Leash
A wider width is best if your dog is a strong puller or loves to gnaw whatever he or she may find lying around. It would have better chances of taking on the force of a dog's pull. However, for dogs that have a habit of pulling you along, a retractable leash might not be for the best. Larger dogs can break the retraction mechanism of the leash and, once it breaks, the handle is useless in taking control of your dog.
On the other hand, if you have a smaller dog, it is better to choose a retractable leash with slimmer material. A wide leash might make it heavy and restrictive for your small dog. However, if they are chewers, aggressive, or strong pullers, then a wider leash would still be the best option.
The Right Way to Use a Retractable Dog Leash
Like any tool, a retractable dog leash must be used properly and in the right situations. Here are a few key points to remember when using a retractable leash: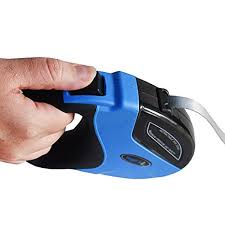 Always have a firm grip on the handle and never wrap the cord or flat nylon around your hand. When your dog pulls and it is wrapped around your hand, it would hurt you or, worse, cut your hand.
Always take control of your dog. A retractable leash might give your dog a better freedom of movement but they, or someone else, could still get in trouble for their antics. Keep the leash short when indoors, keep it locked when nearby streets and in the park, and always be aware of your surroundings.
Your dog should still be

leash trained

. Using a retractable leash does not exempt your dog from injuring itself by constantly pulling on their leash. Furthermore, the longer leash would have the dog at higher speeds when it tugs its full length at the end, which would put higher strain on their necks.
 And The Best Retractable Dog Leash Is?
Here are some of the best retractable dog leashes available. All of these use flat nylon and can be easily operated with one hand. However, one leash does not suit all kinds of dogs. You have to consider your dog's strength, temperament, and behavior. With the proper use and the right retractable leash, you and your dog can have a safe and pleasant time outdoors.
(These are in no particular order)
HERTZKO Heavy Duty Retractable Dog Leash
The Hertzko Heavy Duty Retractable Leash can handle dogs of up to 110 lbs. The nylon ribbon extends up to 16 feet so that your dog can freely run around without you completely losing control. The handle is designed so that you can comfortably grip it even if you have big hands. The grip is made out of material that won't slip from hands when your dog excitedly runs away from you.
Designed for heavy use, you can walk two dogs by using a dual connector as long as their total weight does not exceed 110 pounds. You won't worry about getting tangles with the leash as the flat nylon leash or the "ribbon" smoothly glides in and out without getting stuck thanks to its smooth belt feeder. With just a push of a button, you can easily hold the length of the leash, lock it in place, and retract the leash.
If you receive a defective item, Hertzko abides by Amazon's replacement warranty so you don't have to worry about getting a product that works. For those unsatisfied with their product, Hertzko offers a complete refund for returns made within 30 days of purchase.
LATITOP Heavy Duty Retractable Dog Leash with Break and Lock Button
The Latitop Retractable Dog Leash made by  can handle dogs weighing a maximum of 110 pounds and can extend up to 16 feet in length. With the retraction controls accessed with your thumb, you can easily operate the leash with only one hand and without fumbling with your fingers. Furthermore, it won't pull on smaller dogs as the retraction power of the mechanism does not exceed 1.5 pounds.
Although it is advertised that it can handle dogs of up to 110 pounds in weight, it might be more realistic to just use it for small and medium dogs that can obediently stay in place. The retraction mechanism breaks within a few weeks to two months of use for heavier dogs. There are also incidences wherein the leash snaps when a small or medium dog bolts after birds or squirrels.
The retractable dog leash comes with a waste bag holder conveniently attached to it. If you're a new pet owner, this could be the best purchase for you as it comes with four e-books: a guide for training puppies, a first aid manual for cats and dogs, secrets for keeping your puppy healthy, and tips on how to become the best dog parent.
For unsatisfied customers, Pet Neat refunds purchases without the need for product returns and, in the case of defective products, delivers a replacement at their own cost.
WINSEE Retractable Dog Leash
The WINSEE Retractable Dog Leash can hold small to large dogs of up to 110 pounds in weight and can extend of up to 16 feet in length. It can be easily handled and retracted with one hand and a thumb on the button. If you like to walk in the evening, the reflective lining of its 1.6 centimeters wide rope provides good visibility for you and your pet.
The leash feels light and the non-slip grip feels comfortable. The heavy-duty spring of the retraction mechanism does not break under the force of sudden pull from the dog. By just toggling a button with your thumb, you can lock and retract the leash, which makes it easy using it with just one hand.
However, if you have small hands, the big handle of the leash might turn you off as it makes it difficult for you to press the button. Also, the leash is quite thin and this makes it easy to be get stuck and tangled when being retracted. The thin leash also easily frays at the point where it is connected to the collar clip.
Because of how thin it is, it might not be able to handle a strong dog that would give chase to a squirrel or a cat. So, if your dog is a strong one and is in the habit of chasing small critters, then this leash could easily break when the inevitable chase starts.
SHINE HAI Retractable Dog Leash
The Shine Hai Retractable leash, similar to the Winsee in looks and reflective lining, is a bit heavier and has a thicker leash. If you like how the Winsee looks but have a heavier or strong dog, then this is the preferable leash for your dog. It also has a 16 feet retractable leash and the same press and toggle operation of the Winsee.
But, the thicker leash might have made it difficult for the retraction mechanism to work properly. There are times when the leash would not roll back once extended. It could end up wrapped around your dog's feet, which might pose a hazard to you and your pet.
If there are any defects or complaints about the product, SHINE HAI offers a full refund to the buyer.
Lonew Retractable Dog Leash
The Lonew  retractable dog leash is designed so that you can conveniently walk your dog with only one hand. Designed for dogs of up to 110lbs, it can extend up to 16 feet. The grip is made out of a soft anti-slip material that is ergonomically-designed to be held comfortably by one hand. With its flat nylon leash, it does not tangle and cause rope burns. And, it even comes with a handy waste bag holder and a roll of bags in it.
Operating it is as simple as pressing and depressing a single button that is conveniently located for your thumb. At a press of a button, it engages the internal mechanism to stop and hold the leash at its current length. And, to lock it at its current length, it as simple as pushing the button forward with your thumb. To engage the retracting mechanism, you only have to pull back and release the button.
The reflective leash makes it perfect for those who walk their dog at night. The locking metal collar attachment is made out of stainless steel so it won't rust or break easily because of it. They also offer a 100% lifetime money back guarantee that can be availed at any point of time or for any reason you choose to return the product.
Conclusion
When choosing the best retractable dog leash, it is important that you consider the strength and the behavior of your dog as well as training. If you want more control over your dog or uncomfortable with your dog having a lot of lead-room, then a retractable leash might not be suitable for you and your pet. You could try to look into other types of dog leashes like the standard leash at about four to eight feet in length or the adjustable leash that can go between three to six feet in length.
Whatever you choose for your small dog, always consider the safety of you and your dog from any accidents as using a faulty leash could cause harm to you, your dog, and those around you when it breaks.
Quick Comparison Of The Best Retractable Dog Leash For Small Dogs
"As an Amazon Associate I earn from qualifying purchases."